Southeast Diabetes
Faith Initiative
About SDFI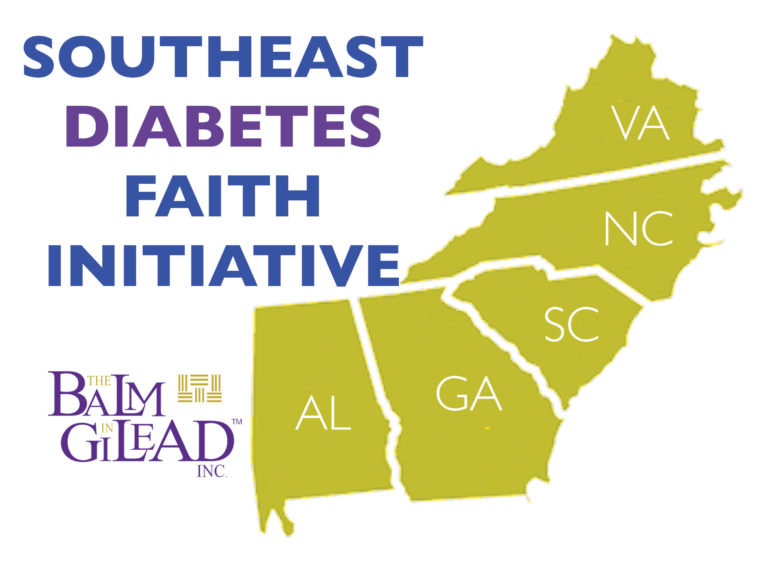 The Southeast Diabetes Faith Initiative (SDFI) is a 5-state faith-based project designed to expand access and utilization of the National Diabetes Prevention Program (NDPP). The goal of this multi-faceted initiative is to create a sustainable infrastructure within faith-based institutions to effectively deliver diabetes prevention curriculum and education to designated populations within the following geographic areas: Alabama, Georgia, North Carolina, South Carolina and Virginia.
These faith-based diabetes prevention programs are developed and implemented to help support the prevention of Type 2 diabetes and improve the management of the disease for those living with diabetes.
The SDFI Diabetes Prevention Programs (DPP) hosted by our local faith partners support communities and individuals to live healthier in mind, body and spirit. The Balm In Gilead also provide technical assistance and resources to faith partners, which strengthens their capacity to become health promotion and disease prevention centers for their members and the communities they serve.
© 2012-2030 The Balm In Gilead, Inc. | This Web site may contain messages that are inappropriate for some audiences. Since HIV and other communicable diseases are spread primarily through sexual behavior or by sharing needles, content on this site may address these topics. If you are not seeking such information or may be offended by such materials, please exit this Web site. While we aim to provide accurate and up-to-date content on this site, it may contain errors or omissions, as information about HIV/AIDS and other health disparities frequently changes. This site may also contain content from third party sources and/or links to content on other sites. The Balm In Gilead is not responsible for such content.